Loading...
Click Anywhere to Close
When inspiration strikes,
make music with

As Featured In


Instant Jam Sessions
JAMDECK drops you right into the action to quickly capture those magic moments.
With a broad range of instruments always at your fingertips and an intuitive workflow, JAMDECK lets you be spontaneous too. The built-in Loop Recorder lets you easily record and layer an unlimited number of loops of up to 32 beats in length.
Whether you just feel like freestyling or want to lay the foundation of your next track, JAMDECK is always easy to pick and play.
Producers
Whether you just want to lay down beats quickly or rough out melodies, JAMDECK gets the job done faster than ever before.
Songwriters
With a distraction-free workflow, JAMDECK turns the focus back to pure melody and the joy of songwriting.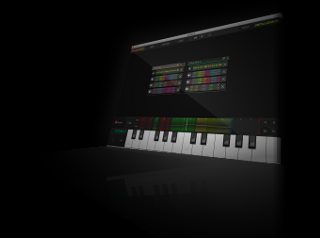 "A near perfect tool for getting ideas
down without a lot of fuss."
Get into the groove with
JAM
DECK
A Workflow with Flow
Record audio and MIDI loops without breaking a sweat. The JAMDECK Loop Recorder is a powerful creative tool for writing songs.
Layer melodies and quickly build up the heart of a song with a workflow that's less work and more flow.
An instrument browser overlay makes it fast to swap instruments or recording sources on-the-fly. Go from beatboxing to synth solo in seconds.
Make Beats

With ready-to-go drum kits and loop recording, making beats with JAMDECK is a cinch. And it works even with your computer keyboard - no controller required.
Create without Interruptions
Instant Live Looping
JAMDECK is built on a live looping workflow with a recorder that captures MIDI and audio simultaneously. Loops can be dubbed over or copied to stacks called Ideas.
Always Exported
All your jams are always saved to MIDI and WAVE formats. Better yet, MIDI can be directly dragged out of JAMDECK and into most popular DAWs. Learn more.
MIDI Hardware Support
Plug in any USB MIDI keyboard or drum pad controller and turn it into a live looping workstation. Just plug in and jam!
Hand-Picked Instruments
Featuring four collections of instruments, JAMDECK puts a broad range of sounds at your fingertips with a brand new instrument browser.
Jam Essentials
27 high-fidelity sampled instruments including pianos, orchestral instruments, synths, and more.
SodaSynth
Seven presets from the pristine, classic flagship synthesizer from Oscillicious, for mellow electronic sounds.
Analog Extracts
Five sampled sounds designed with an analog modular synthesizer bring quirky tech noises to JAMDECK.
Drum Kits
Includes five meticulously tweaked drum kits from producer Carlo Carosi for electronic and acoustic beat making.
Features
Integrated Environment
JAMDECK comes equipped with everything you need to start making music instantly.
Live Looper
32-beat live looper with overdubbing.
39 Built-in Instruments
Pianos, synthesizers, orchestral, drum kits, and more. Includes built-in SodaSynth engine and Analog Extracts sounds.
29 Drum Loops
Covering a range of different styles. Kickstart your jams with a beat.
Mastering Engine
Brand new mastering presets add character to your jams.
MIDI Controller Support
Jam with a MIDI keyboard or pad controller.
External Recording
Record loops from your microphone, guitar, or anything you can plug into your soundcard.
Freestyle Recorder
Non-stop, automatic recording.
Cross-Platform
Runs on both Windows and Mac OS X.
DAW / MIDI Export
Drag and drop MIDI export to Ableton Live, Logic Pro, REAPER, GarageBand, and more.
Share on SoundCloud
Send your ideas to your friends with SoundCloud upload.
Session Saving
Save and load your jam sessions, plus all your loops are rendered to MIDI and WAVE.
Ready to jam?
Make some noise with the Demo.